A trip to the ICON aircraft company recently proved to be very interesting. This company is taking advantage of the new Sport Pilot initiative to bring more people into the aviation family with the innovative design of their ICON A5 sport aircraft. The Sport Pilot certification has some limitations such as day time flying only and remaining out of the clouds at all times, but that is fine with ICON; their idea is for individuals to have fun again in aviation but do it more simply, and preferably in the ICON A5.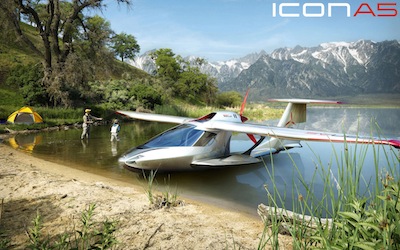 The ICON A5 Light Sport Aircraft (LSA) possesses a lot of utility. It can takeoff and land from the water. It possesses retractable landing gear which makes normal airport operations possible as well. It is sleek and sporty. It is far from the traditional aircraft design. The aircraft wings can be folded so it can be towed on a trailer behind the family vehicle – just like you take your ski/fishing boat or Jet Ski. The ICON website notes that it can be yours for an estimated $139,000 when equipped with standard equipment.
As with all Sport Aircraft, it only has two seats, but the intuitive, sports car-like cockpit is roomy. On the dash is a GPS moving map, MP-3 in-flight music port, an angle of attack (AOA) indicator, and a high-visibility, wrap-around canopy. The side windows can be removed allowing the occupants to experience flight with the feel of an open cockpit.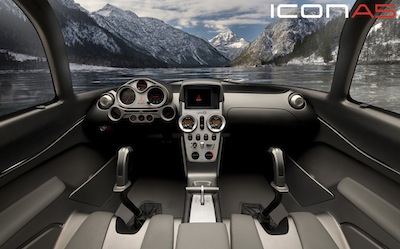 Depending on the options purchased, the useful load ranges between 430 and 530 pounds. It can carry 60 pounds of baggage (max). The Rotax 100 horsepower engine can operate on either AvGas or Auto Gas and will produce a cruise speed of approximately 105 knots. The approximate range is 300 nm, which probably meets or exceeds the endurance of most occupants. It only needs approximately 750 feet to takeoff and land, which opens up many opportunities for visiting just about any location you could want or imagine.
The A5 has a high-strength, lightweight carbon fiber airframe and high-performance wings that have proven very stable during initial flight tests. Built into the frame are headlights, floodlights, and seawing platforms that allow for easy access and docking during water operations. It also has a specially designed propeller guard to protect individuals who are around the aircraft when the engine is operating.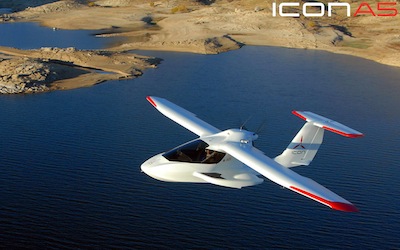 Standard equipment includes retractable landing gear, manual folding wings, GPS moving map, analog flight instrumentation, intercom system, VHF communication radio and Mode C transponder.
Optional equipment includes the ICON Complete Airplane Parachute, automatic-folding wings, Seaplane configuration (no landing gear), attitude indicator and a custom A5 towing trailer. Of course, the optional equipment will cost you a little more.
You can read more on the ICON website, as well as view videos and download information about the A5. You will find that this aircraft is an out-of-the-box design and does lend itself to capturing the imagination and thrill of those early visionaries of aviation.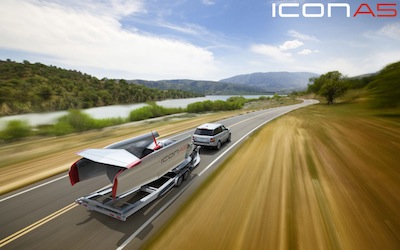 The folks at ICON are passionate about Sport Aviation and providing an opportunity for those who have always wanted to be a pilot. The ICON A5 was designed so that more people could experience the thrill and mystery of flight. ICON's goal is to create an experience for these new pilots; the ICON experience.  Check it out and see if the ICON A5 does not intrigue you.