Technology in aviation has enabled pilots to do more on mobile devices than ever before. Whether it is an iPhone, Android, Blackberry, iPad or some other enabled device, pilots can get more done at the touch of a button. There are many apps available, but here are a few that I have found to be very useful.
I will limit my discussion to the ones I use and know something about. I can only speak to the ones designed for either the iPhone or iPad also because those are the devices I use. Feel free to chime in with apps that you have found useful and include the device that you use them on. Please note that this is only a summarization of the capabilities and usefulness of each app. I'm going to be putting out a series that will focus on my favorite apps and talk about their full capabilities.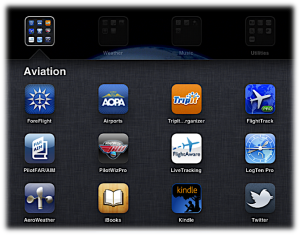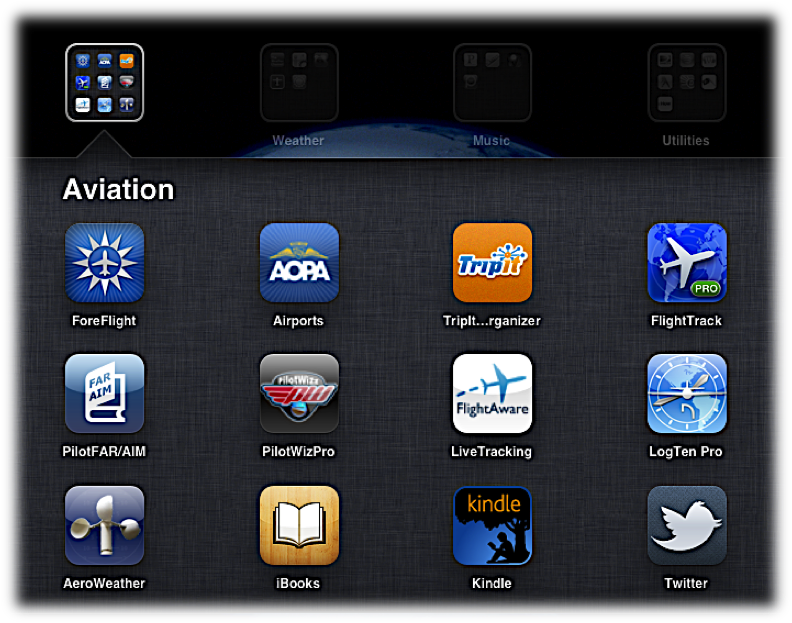 ForeFlight (iPhone & iPad) – (free) This app provide a "one stop shopping" approach to aviation. It includes an Airport and Facility Directory; Plates & Charts, Weather; Touch Planning, Direct To and Moving Map; Airways/SIDs/STARs; Fuel Prices; Flight Plan Filing; Geo-referenced plates; and much more. The app is free however you need a subscription for the service – you can go to their website for pricing options. When you consider the price of individual charts and plates, this app more than pays for itself. I use it on every flight.
AOPA Airports (iPhone) – (free) This app is like having the AOPA Airport Directory in your pocket. Of course you will need an active AOPA Membership and an AOPA Online username and password to use the AOPA Airports app. I like this app and find it very handy; I can access information about any airport easily and immediately.
Tripit – Travel Organizer (iPhone) – There is a free version and one that costs $1.99 (if you want no advertisements). This app puts all your travel plans right on your iPhone no matter where your travel was booked. Forward travel confirmation emails to Tripit to build a trip itinerary. Then access your travel info from your iPhone at any time with the app. I find this app to be very handy if you travel a great deal; the ability to access airline, hotel, rental car, etc. details instantly (and with no paper involved) is very convenient.
FlightTrack Pro (iPhone & iPad) – This one costs $9.99 but does a good job of tracking my flight data. You can "import flight data automatically from any airline confirmation email and get push alerts with real-time changes to your flights." For people who travel a lot, it can be worth the cost of the app – you can know what is going on before you get to the gate. I use this to keep up with the flight status and gate assignments when I travel; I really like this app.
Pilot FAR/AIM (iPhone & iPad) – To me, this app is worth the $9.99. It is always current and very convenient. It also has a pilot/controller glossary. There are others that may do the same thing, but I found this one first and have stuck with it. By the way, the others are approximately the same cost.
PilotWizPro (iPhone) – This app provides all of the basic conversions, calculations and key functions of the E6B or CRP-1. It also provides Weight & Balance, Fuel calculations, Holding Patterns, Crosswinds, Weather Decoding and Route Planning. The Pro version allows the import and export by email of individual aircraft data and the complete configuration. It also directly accesses weather site pages for radar and airmets, etc. I have not explored all of the capabilities of this app, but I do like the various features that I use. I think it is worth the $9.99 you pay for it.
FlightAware (iPhone) – This app is free and is very functional. Not really a lot to say except it features a few of the main functions of the website; track flights, view airport activity, search nearby activity, and allows access to "My FlightAware" from the website. I mainly track flights with this app and since it is free, I get my money's worth.
LogTen Pro (iPhone & iPad) – This app actually is a trifecta – the third part is a Mac program. All three (MacBook, iPhone, and iPad) can sync with each other. It's a great way to keep track of your flight times, as well as your currencies. It will also import various types of data if you want to convert. The best part was the customer service I experienced. They were responsive and very helpful. The iPhone app is $39.99, the iPad app is $64.99 or you can buy all three at the Coradine website for a discounted price.
AeroWeather (iPhone & iPad) – (free) This is a great app for quickly checking METARs & TAFs. You can go Pro for $3.99 – it contains many more bells and whistles. Check it out and see which one works best for you. I use it all the time.
iBooks (iPhone & iPad) – (free) Of course this is a very useful tool to access, buy and read books from the iBookstore, but the other thing I use it for is to read all of the .pdf files that I have downloaded from other places. In particular, I have downloaded all of the FAA handbooks so that I have instant access to them during an instructional lesson.
Kindle (iPhone & iPad) – (free) For the books that I can't find in the iBookstore, I can usually find them for Kindle. This app expands my ability to locate the books that I want in my electronic library.